Come Sit At My Kitchen Table For Some Conversation
... Because LIFE HAPPENS in the kitchen! And INSPIRATION comes in many forms.
... brings down-home wisdom and easy conversation to the business world.
But easy conversation doesn't mean easy topics.
Let's face it, you're in business. You have a life. Stuff happens. Where do you go when you need to vent?

What if you just want a reality check, or need input on an idea?
Life HAPPENS. We all know it.
The kitchen table was for homework while Mom made dinner. The kitchen is where we learned to cook. We created memories, solved problems, cried over lost loves and broken hearts, and celebrated life – all in the kitchen. Do you remember those times? How many parties have you been to as an adult where everybody seemed to be congregated in the kitchen? I'll bet it's a lot!
What if, as a woman in business, you had a kitchen table where you could have those conversations again?
That's what you'll find right here! Coach in the Kitchen™ is not about teaching you to cook. Instead, I'll take you into the kitchen where comfortable conversation is the rule and no topic is too small or too big.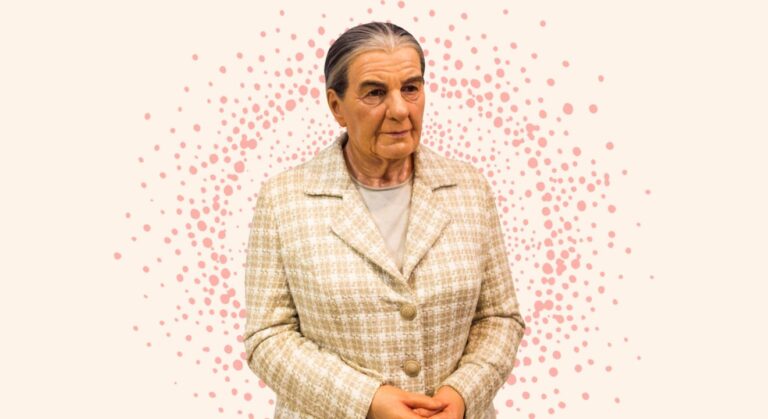 Golda Meir Went To Her Kitchen ...
Golda Meir inspires me to bring Mastermind Groups and Coaching to the kitchen for women in business.
She was in the habit of having high-level meetings with her cabinet members and other trusted advisors in her kitchen. She'd serve them a cake she'd just baked and very strong coffee. She ran the country from her kitchen table.
And, it worked!
What to Expect from
the Coach in the Kitchen™
My business is about women …
Working with them to grow themselves and their businesses.
That happens through coaching and mastermind groups. My groups will now be run from my kitchen – one of the rooms where I spend the most time. It might be virtual, but I invite you in to join the conversations.
Going forward I'll be sharing the lessons and experiences I've had in the kitchen and will save a place at the table for other women to share their own learning.
As I mentioned, Coach in the Kitchen™ IS NOT about teaching you to cook!
It's all about returning to the kitchen where comfort and intimacy are easily established. Where no subject is off limits and we can get whatever we need — support, a ready ear, laughter, help, ideas, celebration… girl time.
It's where you can talk about your business or your life and know there's no judgement. No one will laugh at you though we will share your laughter.
So join me, your Coach in the Kitchen™ as we sip coffee and tea and take on life and business on our terms.
"Trust yourself. Create the kind of self that you will be happy to live with all your life."
~ Golda Meir
Meeting dates and times will be announced.
If you're interested, send an email by clicking the button below, and I will make sure you get all the information.